The Pinocchios Fortune video slots game is based on the popular classic, Pinocchio, the puppet who dreamed of becoming a little boy. 2×2 Gaming converted this classic tale into a video slots game, taking players on a trip down memory lane into the adventures of Pinocchio.
The game offers its players five reels and thirty pay lines to play on while enjoying some casino games in a separate window.
Bringing the Theme to Life
The Pinocchio theme is evident in all aspects of the Pinocchios Fortune video slots game. The background elements and playing screen appear to be carved out of wood, with crafted wooden ornaments and the like decorating the playing area. The background scenery depicts trees and leaves to remind players of the forest where Pinocchio first came to life.
The graphics and imagery are well-designed and of a high quality.
The symbols also reflect the wooden puppet theme, and draw heavily on the original tale. Players will encounter symbols such as the characters of Pinocchio and Gepetto themselves, as well as a few other iconic symbols such as a golden key, books, a pool ball, and Gepetto's house.
Wild Symbol Bonuses
The wild symbol in Pinocchios Fortune video slots game is represented by the character of Pinocchio himself. The wild symbol operates as per usual in that it can substitute any of the other symbols on the reels, thereby helping players make up winning pay lines and form the highest possible winning combinations with the top pay outs.
In addition, landing five Pinocchio wild symbols in a row on an active pay line will reward players with a credit pay out bonus of one thousand coins. When this happens, players will also benefit from a sort of cascading reels function, in that most symbols on the playing screen will vanish, giving players more chances to win prizes without having to make use of another paid-for spin.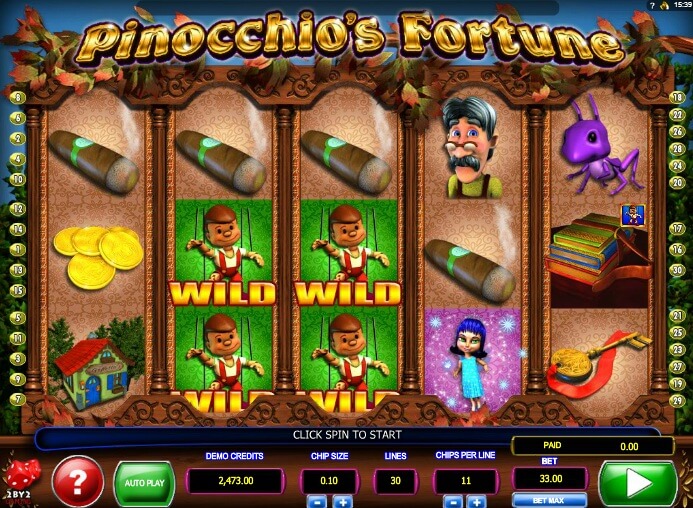 Find Gepetto Bonus Round
The fairy symbols are the key to the Pinocchios Fortune bonus round. If players manage to land three fairy symbols, this will automatically trigger the Find Gepetto special bonus round. Here, players need to spin a wheel in order to reveal prizes such as cash pay outs and multipliers.
Pinocchio Close-Up Scatter Symbol
The icon depicting a close-up of Pinocchio's face operates as the scatter symbol of the Pinocchios Fortune video slots game. If players manage to land three or more of these close-up scatter symbols anywhere on the reels, this will trigger the Pinocchios Fortune free spins round.
Players will immediately be rewarded with twelve, sixteen, or eighteen free spins after they have landed the set scatter symbols, depending on whether they have landed three, four, or five close-up scatter symbols.
Players will be able to re-trigger even more free spins every time they land the close-up scatter symbols again. There is no limit to the number of times the free spins can be re-triggered.
In addition, every time the free spins round is triggered, Pinocchio's nose will grow and players will be rewarded with fifteen bonus picks. Here they will be able to choose a certain number of boxes as given during the free spins round, with each box containing a cash payout prize.